Due to the long, grueling and occasionally dangerous days farmers have, it is important to purchase equipment and tools that will be well-crafted, durable, and last a long time. Farmers work in hot weather conditions for long hours, and need farming boots that will provide protection from the weather, are durable, and have good air ventilation. With this in mind, we have created a list of the six best farm boots for hot weather, that provide support, comfort and excellent air circulation.
The Best Farm Boots For Hot Weather Reviews of 2021
#1. Muck Chore Classic Hot Weather Rubber Work Boots

These tall shaft work boots are made from neoprene material and are 100% waterproof as well as shock-absorbent and retain heat. Because of their material makeup, these farming boots are designed to adjust to your foot shape to minimize the possibility of you developing blisters. As these boots have a breathable lining, when you are working in hot weather your feet will behave air ventilation throughout the day which makes these an excellent pair of boots for farm work.
Important Features:
Fully waterproof work boots.
Airmesh breathable lining to ventilate the boots.
Shock absorption and heat retention technology.
Additional support in the toe and heel to protect from injury.
Extra 5 inches of calf material to maximize comfort.
#2. Georgia Wellington Wedge Work Boot For Hot Weather

Another option of boots for farm work is these designed by Georgia Boot as they are made from 100% SPR leather. This particular type of leather is developed to be three times stronger than standard leather and is resistant to barnyard chemicals and acids. In addition to the treated leather, these farming boots also have a built-in steel toe, as well as cushioned insoles, so your feet will be protected and comfortable all day long.
Important Features:
Made from 100% SPR leather, which is highly resistant to barnyard acids and chemicals.
Cushioned insoles and pull-on tabs.
Available in three different colors.
Built in steel toe, can withstand 75lbs.
Additional steel shank to provide support to your foot arch.
#3. Muckster II Ankle Rubber Summer Garden Boots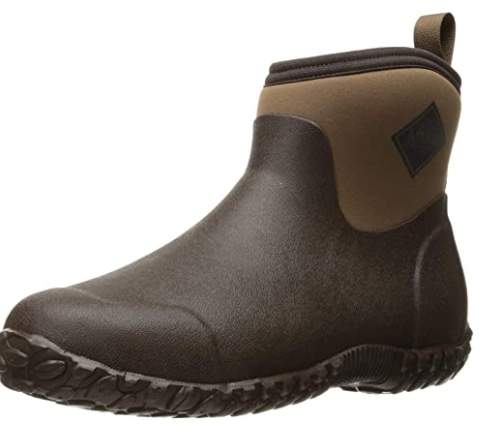 If you prefer a pair of farming boots with a smaller shaft height, then these Muckster ankle boots might be perfect for you. They are made from neoprene material that provides shock absorption and heat retention as well as waterproof protection. When you are farming in hot weather, the boots have Airmesh lining that provides your feet with air ventilation to minimize perspiration and humidity. The soles have a high-traction design to help you navigate mud and rain.
Important Features:
Ankle shaft length, available in four different colors.
Rubber outsoles with high-traction.
Waterproof work boots.
Airmesh lining provides excellent boot air ventilation.
Neoprene provides heat retention and shock absorption properties.
Adjustable foot shape to protect against blisters and chafing.
#4. Bogs Classic Waterproof Insulated Rain Farming Boots

For those that require additional comfort room around their calfs, these Bogs rain boots will be the best farming boots for you. With a contoured design to provide your ankle and feet with maximum support and extra comfort room around your calf, these 100% waterproof work boots will be enjoyable to wear all day. These boots are made from neoprene and rubber, with non-slip and self-cleaning outsoles and heat retention technology for those that need work boots to use in changeable weather conditions.
Important Features:
100% waterproof work boots.
Made from neoprene and rubber, with rubber soles.
Heat retention material makes boots comfortable in high and low temperatures.
Available in three different styles.
Non-slip and self-cleaning outsoles.
Contour design for maximum support.
#5. Ariat Leather Western Pull-On Boots For Farm Work

Maybe you are looking for a stylish pair of work boots to wear on the farm. If so, these Ariat Leather work boots feature a western-inspired design and are available in three different variations. These farming boots are made with 100% leather and are oil and slip-resistant. Designed with a triple sole system, with a cushioned insole, EVA midsole, and durable outsole, you can work comfortably all day on the farm and know that these durable boots will stand the test of time.
Important Features:
Made from 100% leather.
Available in three different colors, designed with pull-on tabs.
Cushioned insole, EVA midsole and durable outsole.
Oil and slip resistant.
'U-turn' boot entry system, perfect for all foot shapes.
Self-cleaning sole that will not track dirt.
#6. KEEN Targhee II Hiking Boot For Hot Weather

The last pair of farm boots for hot weather conditions we have for you is this pair designed with a mid-cut height. Made with nubuck leather, they are 100% waterproof and are designed with a membrane that allows water vapor to be released. This minimizes perspiration and humidity build-up within your boots, which is perfect for hot weather conditions. The cushioned shoe collar and high-traction sole both will make these shoes comfortable and durable throughout a long workday.
Important Features:
Hiking boot design with mid-cut height, available in four different colors.
Made with Nubuck leather.
100% waterproof, with the ability to release water vapor.
High-traction design with non-tracking soles.
Cushioned shoe collar to provide support to the ankle and additional comfort.
What Kind Of Boots Do Farmers Wear?
There are many different designs of farmer's work boots on the market, and while elements of the design are personal preference, there are specific characteristics that all farmers look for in their boots. Boots is made from durable materials (including leather, neoprene and rubber), having cushioning for comfort, heat retention and air ventilation to keep your feet at a comfortable temperature are all necessities.
Buying Guide:

Farm Boots For Hot Weather
When purchasing your first, or replacement, pair of farming boots there are many elements of the boot make-up are present in the pair of boots you wish to purchase in order to assure you are purchasing the correct pair of boots for you.
Shaft Height
Purchasing a pair of boots with a high shaft height will provide protection against high levels of mud and rain/water if required. If this is not a necessity, you may prefer a lower shaft pair of farming boots.
Weather Protection
While hot weather is the norm for farmers, working 14hour+ days means they are vulnerable to various weather conditions. Making sure your boots are waterproof, can retain heat and has air ventilation will mean that you can work through any weather.
Comfortable
First, you must make sure that your feet, ankles and calfs are comfortable in your farming boots, make sure you purchase the correct shaft and foot size. Also, purchasing boots with cushioning and insoles will ensure your feet are comfortable all day and protected against blisters.
Safety
Finally, design elements like toe caps and shock and non-slip soles will protect you against dropped items and slippery surfaces.
Now it's time to choose your favourite boot for farm work
That concludes our guide to the six best farm boots for hot weather. We hope we have helped you find the best farming boots for you. There are a variety of different boots on the market to suit any of your needs or personal preferences.