Those who love farming will confirm that farm boots are among the essential farming accessories. The harsh farm work environment with chemicals and prickly vegetation can harm the skin of your leg if not protected sufficiently. This is especially very important for women as they have softer skins.
With a wide range of women's farm work boots available, it has become a tedious task to select a good product. We have listed below a few of the best farm boots for women available in the market.
Best Women's Farm Boots Reviews & Full Details
#1. Dryshod Haymaker Lightweight Women's Farm Boots

This is one of the best women's farm boots and is an excellent choice for rough farming practices. The exterior surface is water-resistant and dries off soon. The 4-way stretch air mesh lining provides good air circulation. Its thick soles offer excellent protection besides shielding the cold and warm conditions. As these boots come with a mid-cut, they can be easily rolled down.
Key Features
DS1 molded soles make it slip-resistant
Water-resistant Hydrokote coating helps in easy drying
The Sensoprene foam provides insulation against cold and heat
Pull-back tabs are present that helps in ease the insertion of the boot
Lightweight and flexible
#2. HISEA Women's Mid-calf Muck Women's Rubber Farm Boots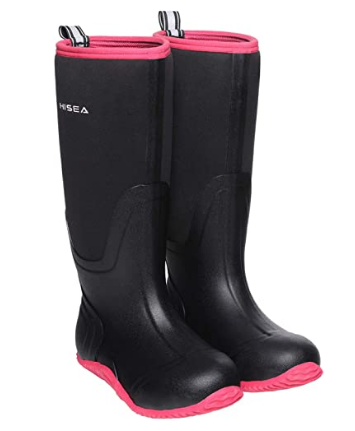 These farming boots for women are versatile and can be used in the rainy season, for farming, as well as outdoor hunting. Of all the women's rubber farm boots available on market, this is the best choice. The neoprene coating assures you dry feet throughout. Another attraction is the temperature regulation ability that makes it neither too hot nor too cold.
Key Features
The molded rubber outsoles make it slip resistant and favorable in any season
The rubber shell that extends well up to the ankles makes it highly durable
The breathable air mesh lining helps in good air circulation
The neoprene coating of 5 millimeters makes it water-repellant and provides warmth to your legs
#3. Muckster ll Muck Garden Rubber Farm Boots For Women

Made of high-quality rubber, these muckster boots are excellent for use in any season and are one of the best farm boots for women. This is a product with a rare combination of style with quality. It is flexible and tough at the same time that makes it ideal for harsh work conditions. The boot has a length of 9 inches. But, it can be rolled down for regular use. It also has a pull-in tab that makes the insertion easier.
Key Features
The 4-millimeter thickness of the neoprene coating making it resistant to water
The neoprene coating also provides it features of shock absorption and good adaptability
The outsole of the foot is self-cleansing
Air mesh lining makes it breathable
It is highly comfortable and durable
#4. Sloggers Garden Waterproof Rain Ladies Farm Boots

These ladies farm boots are made out of recyclable material and are suitable for those who are allergic to latex. The various color and print options make it the best selection for fashion freaks. They are mainly available in the chicken barn red, chicken red, bee print, and mid-summer black styles.
Key Features
Water-resistant in nature
It is easy to clean as it has a smooth and polished finishing
The removable insole can be removed and dry cleaned
The treaded soles provide grip and make it slip-resistant
They are light in weight and are flexible
#5. HISEA Ankle Muck Mud Women's Farm Boots Waterproof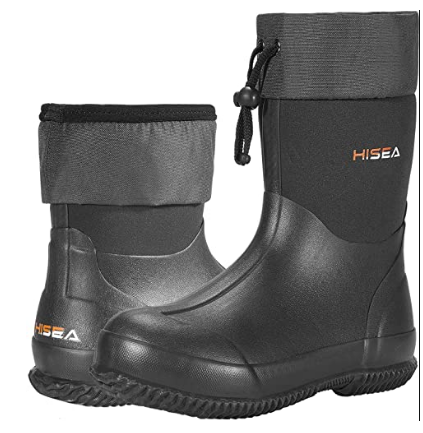 These hisea neoprene waterproof women's farm boots are a perfect option for gardening, farming, and fishing. The attractive lace-lock feature on the top section keeps debris away. They also come with a rubber shell that is sealed all around and makes them water-resistant. Another feature is the H-mesh lining that absorbs moisture and helps to avoid the bad odor.
Key Features
Water-repellant in nature because of the neoprene material
The rubber shells that extend well above the ankle
The treaded outsole makes it slip-resistant
The stretchable lace lock helps the boot pipe to conform to the contours of the calf area
#6. HISEA Women's Farm Work Boots Mid-Calf Garden Boot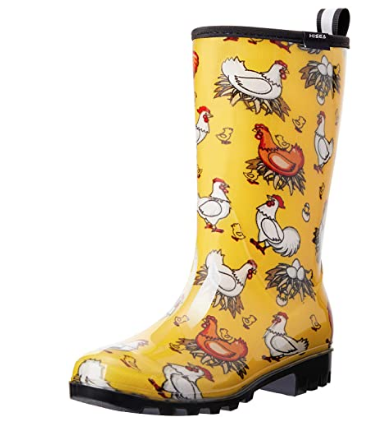 These women farming boots made out of synthetic PVC are excellent for those looking for a combination of style and comfort. They come in various colors and unique chicken prints. However, other animal prints are also available. As they have a wider boot pipe, it is ideal for those with a wider calf.
Key Features
Glossy exterior finishing that helps in easy cleaning
The synthetic PVC makes it highly water-resistant
It is light in weight and highly flexible making it a very comfortable choice
The molded outsoles make it slip-resistant
Buying Guide:

Most Comfortable Women's Farming Boots
Before buying the women's farm work boots, you should make sure that you are aware of important things to consider. Below is a list of the things that you must keep in mind:
Material: The selection of material depends on your purpose. Select a boot that is made of water-resistant materials such as rubber, PVC, and so on if you are looking for a boot for farming and hunting. Selecting a leather material can be a bad option for farming as it may get soaked in water and make your feet stink.
Outsole: Make sure you go for a molded or traded outsole that offers great friction. This is helpful on surfaces that are wet and slippery.
Breathable: A breathable air mesh lining can help in air circulation. This can further provide features of temperature regulation and moisture retention.
Length of the boot pipe:
A long boot pipe may not be desirable for daily use. But, for use in the rainy season or farming, a long boot size is preferred. This can help to keep off water and debris from your feet.
Durability: Selecting farm boots that are durable offers an economical advantage. Boots with rubber shells that are seal all around and extend well above the ankles increase the durability.
Flexibility: The boots must be flexible so that you can easily move around and don't limit your movements. At the same time, it should also be tough enough to avoid getting damaged.
What kind of shoes do women farmers wear?
Women farmers usually wear boots that are lightweight & comfortable. They also prefer ones that are water-resistant and slip-resistant. Bright colors and stylish farming boots are usually women's favorites. Other preferences include boots with narrow insoles and less bulky ones.
Conclusion
When it comes to the best women's farm boots, there is a sea of options available in the market. One must wisely select the right one keeping all the criteria in mind. Rather than going for the most expensive one, you must look into the features that they assure.
Another thing to remember is to go through the size chart. There are many customers out there who purchase the wrong size and later regret having not gone through the size chart.