Best Budget Waterproof Ski Gloves For Men
You will have to prepare yourself by arranging warm clothing to wear and other accessories to keep you warm at the freezing temperature conditions, if you are planning to spend some time outdoors in the winter season. It becomes more important to arrange all these things when you are planning to ski in the mountains regardless of the amount of time you spend there and the level of your experience.
Ski gloves can be one of the most important accessories in such a situation. It can be difficult to choose the good men's ski gloves within your budget as many companies make various types of ski gloves for all types of skiers. Today we will help you in choosing the best budget waterproof ski gloves for your personal use.
Best Budget Waterproof Ski Gloves For Men
#1. Warm Touchscreen Budget Ski Gloves by MCTi

Mcti Ski Gloves: These are one of the top ski gloves with a low budget because of the insulations of 120 grams thick cotton and 40 grams 3M thermal Thinsulate used in them to keep your hands warm. They also include a waterproof insert of TPU to keep your hands dry and warm by wicking moisture for them.
To protect the joints of the thumbs from pain in the grip and make them durable their part between the index finger and the thumb has been made from PU leather which will also prevent quick wear and tear as well as improve grip due to its anti-slip properties.
The middle part, the thumb and the index finger of these gloves are covered with shock to use your touchscreen devices without taking off the gloves even while snowboarding, riding or skiing.
These mcti ski gloves are provided with a pair of wristbands to hold them after taking off so that you cannot leave them anywhere.
Logo embroidery, skin touch, comfortable fabric lining, wrist buckles of good quality and thumb fabric to wipe the nose are the other important features of these ski gloves.
Key Features
Waterproof and warm insert
Wear-resistant and durable
Touchscreen enabled fingers
Wristband to hold gloves when taken off
Fabric thumb to wipe the nose
#2. Army Leather Heli Waterproof Ski Gloves by Hestra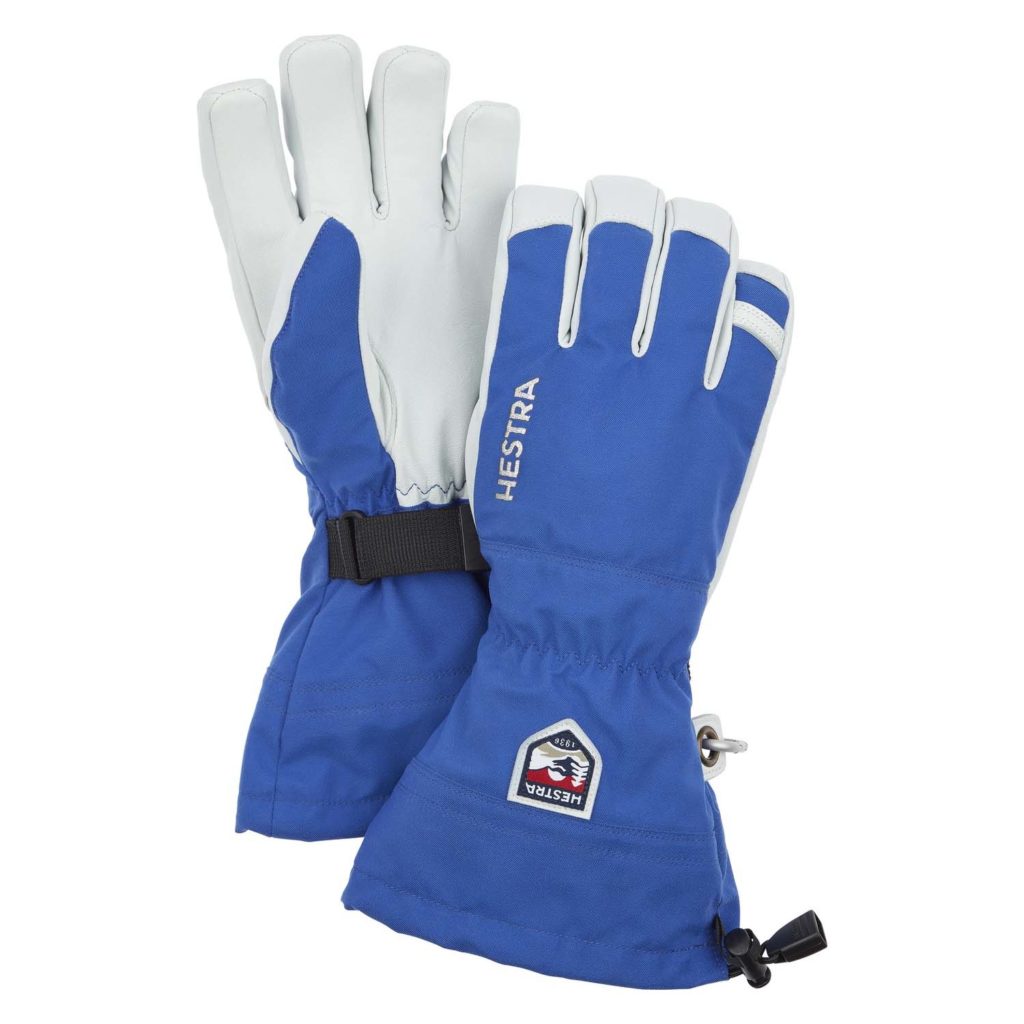 Hestra Ski Gloves: These hestra ski gloves are designed especially for professional guides, patrollers, ski instructors, and free-riders on the mountains as they are more durable, functional, and fit to every hand.
They are made from Hestra Triton, waterproof, breathable, and windproof fabric on the back of the hand and palm and fingers from durable leather of goat.
The insulation of a thin layer of polyester fiber inside these gloves will keep your hands warm even in wet weather. They are designed to be worn on any hand, left or right. They are easily accessible due to the elastic straps with Velcro provided on them.
They can also lock the heat inside the gloves. They will allow your hands to bend naturally to grip the things comfortably with the help of their Eagle Grip design.
Key Features
Designed for professional skiers
Durable and breathable fabric
Polyester fiber to retain warmth
Flexibility to wear on any hand
Easily accessible with an elastic strap with Velcro
#3. Kinco Men's Ski Gloves For Cold Weather

Kinco Ski Gloves: The second generation of a family-owned company Kinco International has introduced these cheap ski gloves with coated leather materials. They are lined with quality materials to make these disposable gloves cut resistant.
They have a team of hard-working, passionate, and dedicated workers to construct premium quality standard kinco ski gloves as required by the budgetary skiers. These innovative gloves made by this company can provide a unique experience to their users.
Key Features
Leather gloves
Quality of construction premium
Standard quality gloves as per the expectation of the market
Generous and true fit gloves
Buying Guide:

Men's Budget Waterproof Ski Gloves
While choosing the best waterproof ski gloves within your budget, you will have to focus on a few important points like:
Insulation: Properly insulated gloves will allow you to wear them in freezing temperatures as they will protect your fingers from frostbite along with keeping your hands warm.
Construction material: Ski gloves are normally made of two types of materials, synthetic, and leather. You can choose from them after considering their pros and cons.
Durability: The top ski gloves you choose within your budget should be made of durable materials and stitched appropriately to serve you for a long time.
Flexibility: The gloves that allow you to move your fingers and hand easily along with keeping them warm can be considered as the best ski gloves for you regardless of your level of experience.
Fitting: The size of the gloves you buy should fit properly to your hands. They should match the construction and shape of your hands.
(FAQs)

Frequently Asked Questions
Q1# What temperature is good for these ski gloves?
Ans: They are good for any temperature below the freezing point.
Q2# Are these gloves good for snowboarding and skiing against snow and cold?
Ans: Yes, they can work great for skiing and snowboarding against cold and snow as they are waterproof and warm.
Q3# Do these ski gloves come waterproofed or I need to do it by using one of the two packs of water-proofers accompanied with this pack?
Ans: These gloves are not waterproofed already. You can use one pack and save the other to use again when the first one will start breaking.
Conclusion
The information provided in this article will help you in choosing the best budget waterproof ski gloves if you are planning for skiing this season.
Though one should choose the top ski gloves for this purpose if you are a casual skier then instead of investing in the high-end ski gloves it will be better to buy budget men's ski gloves. However, while choosing good ski gloves you should focus on their other features also.